Due to weather conditions track practice has been cancelled for today.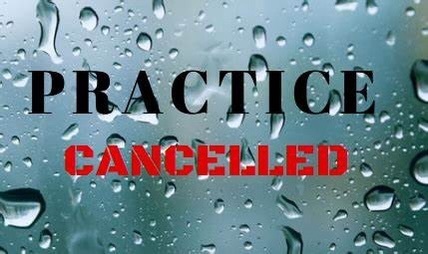 Congratulations to these 3rd quarter Honor Roll students!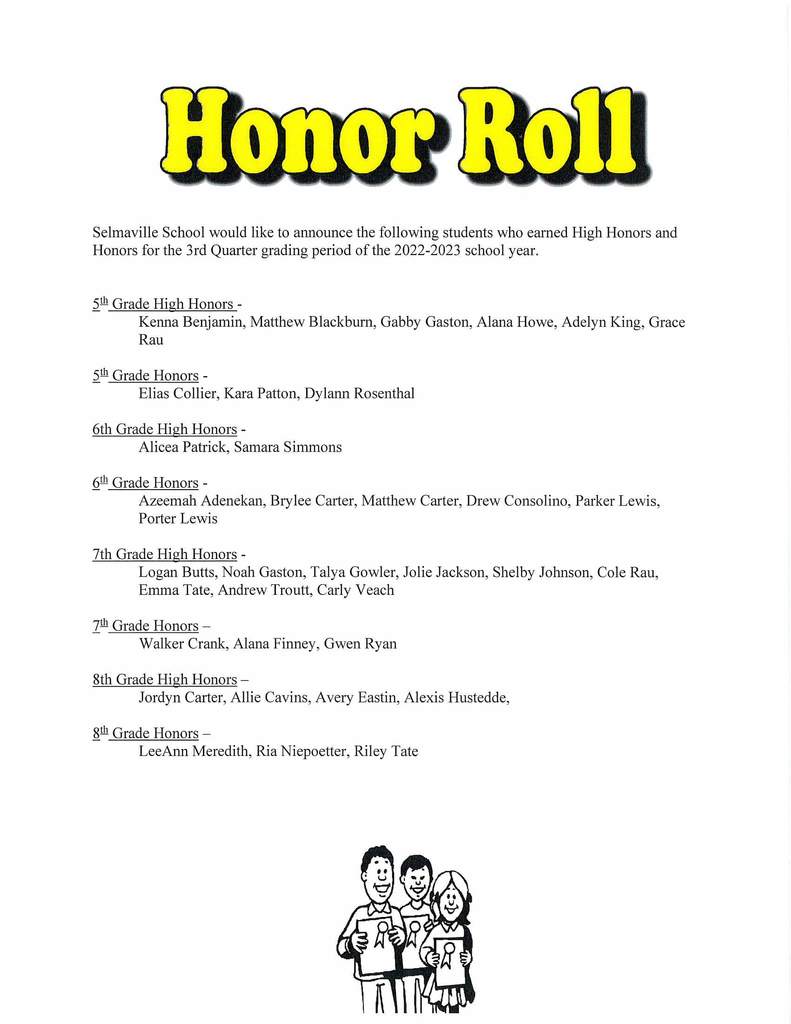 Student of the Week: Ria Niepoetter, Weston Crouse, Carly Veach, Bryan Lee, Lillyan Millenbine, LeeAnn Meredith, Jonah Collier, Briella Handegan, Graysen Byars, Kennedi Simmons, Zane Wesselmann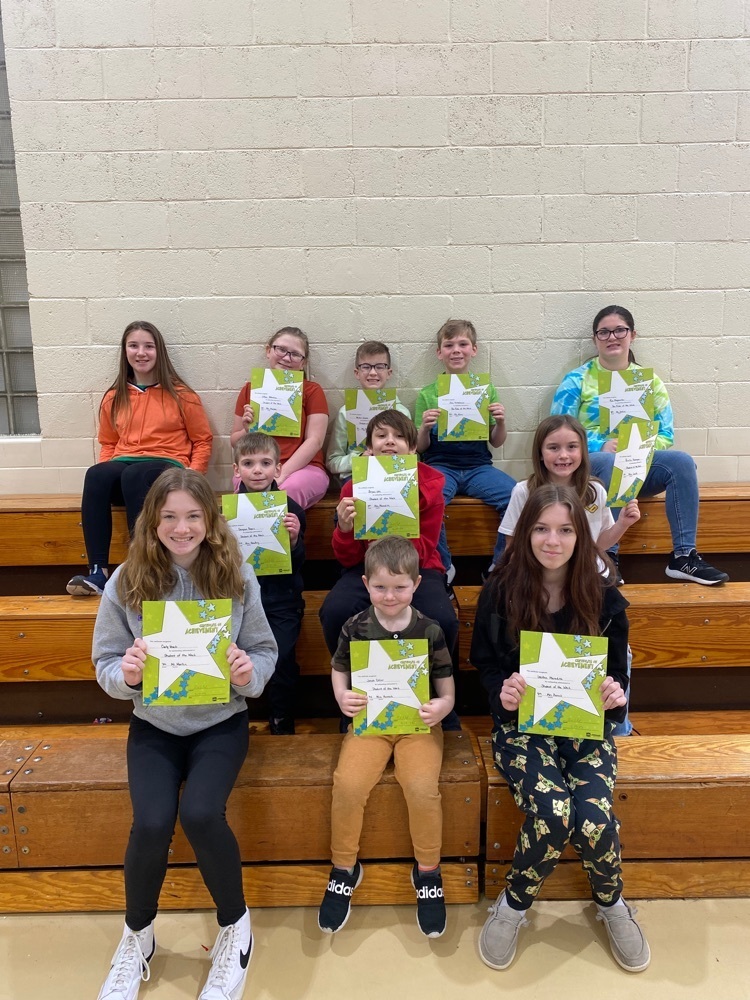 Just a reminder that Selmaville School will be dismissing at 11:30am on Friday 3/17/23. Breakfast will be served as normal but we will not be serving lunch.
Happy belated International Pie Day (It's a big deal for our math folks). Thank you Mr. Williams for being a great sport and accepting the challenge of a pie in the face. The winners of the pie challenge were Shelby Johnson and Azeemah Adenekan. They memorized the most numbers after 3.14 and they won the right to pie an administrator or a teacher.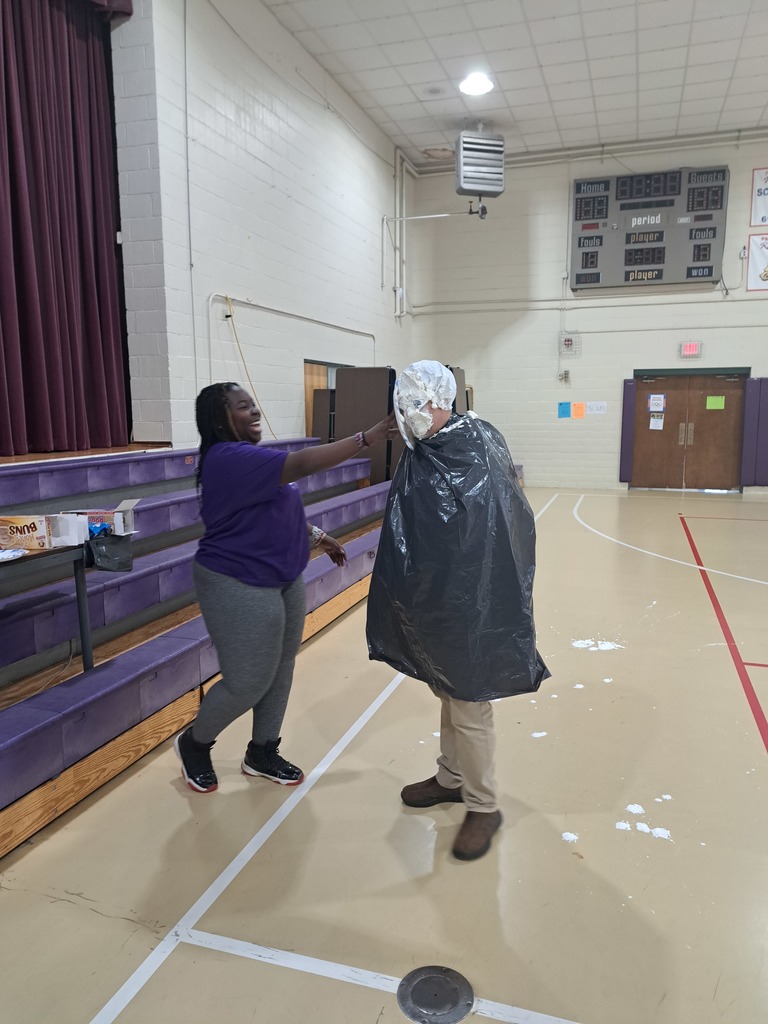 Our last PTO fundraiser of the school year is due on tomorrow (3-16-23) Pick a square and donate that amount! Donations will help support Selmaville PTO. Every student who raises $15 or more will get extra recess and a special treat to enjoy. Every student who raises all $55 will also be put in a drawing for a $25 gift card. Thank you for supporting Selmaville PTO!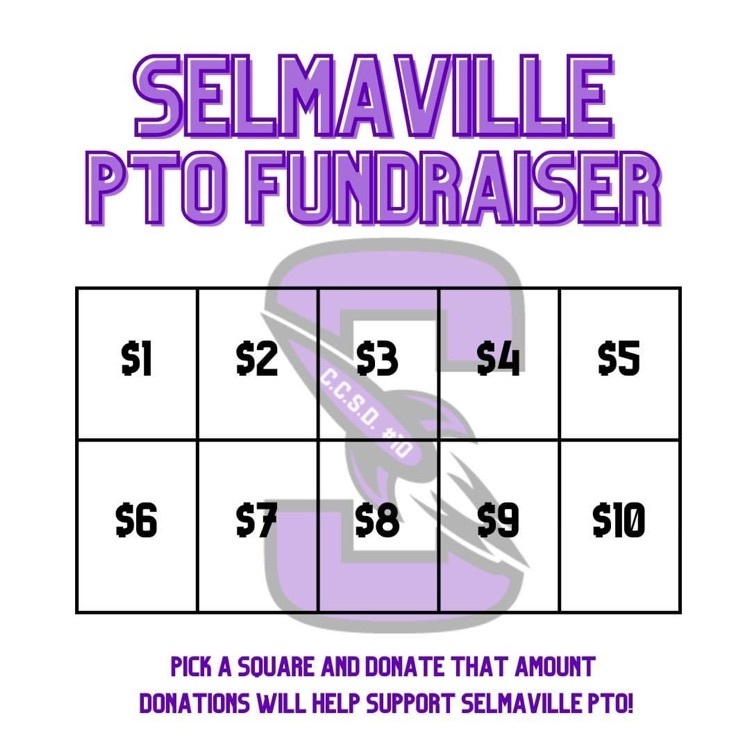 We are excited to announce that our Reading Intervention/Title Teacher, Mrs. Kristi Consolino, has been nominated for Educator of the Year through the Chamber of Commerce. Her expertise and passion of helping students grow in the area of reading has made a huge impact on the Selmaville students. We are so proud of her success and her accomplishments in teaching. Please congratulate her on this nomination.

Caught Being Yellow!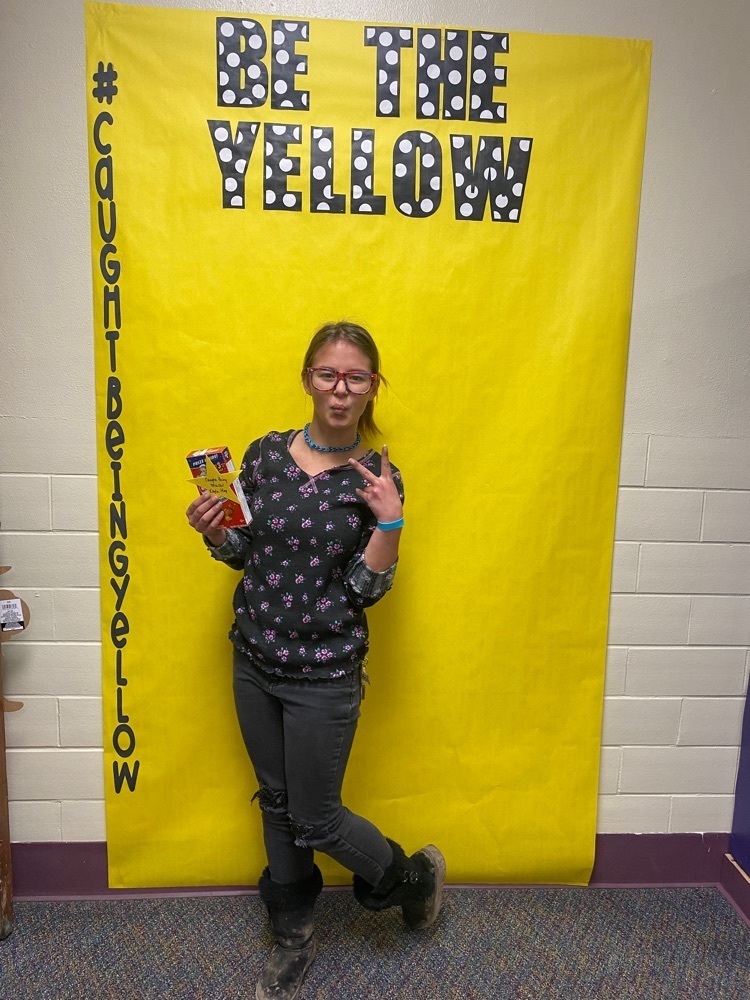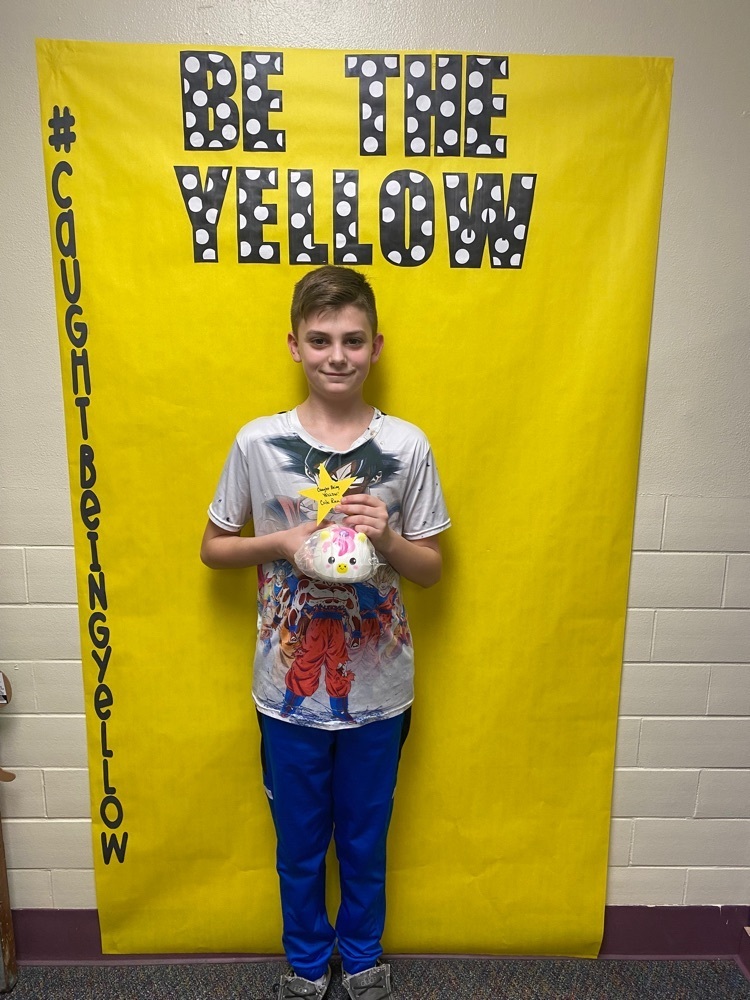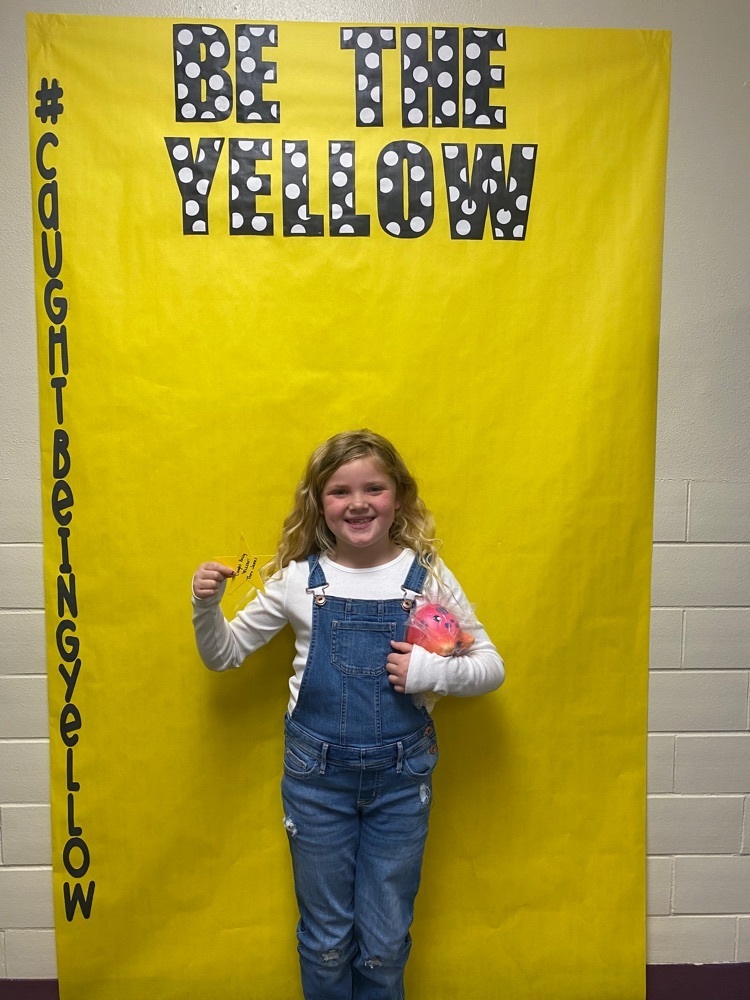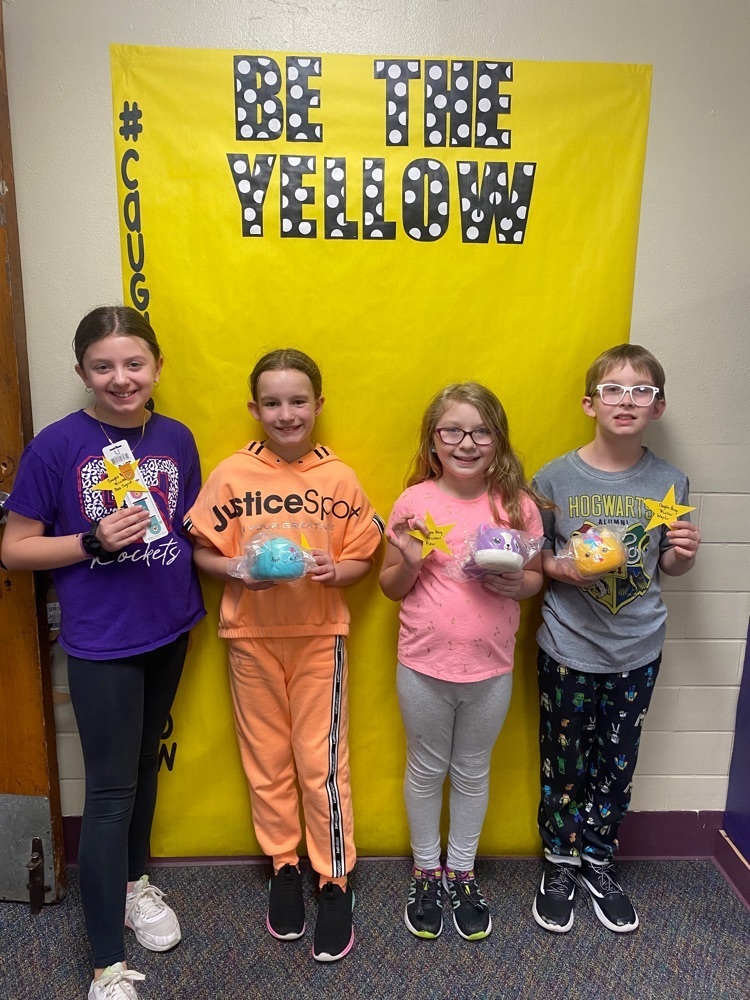 Student of the a week: Gavan Donoho, Cecilia Nolte, Aubree Fulk, Liam Ryan, Eli Holsapple, Adan Guzman, Kaelynn Simmons, Ava Renfro, Anna Telford, Kaolin Lewis, Braydan Donoho, Gia Ward, Kylee Hutchison, Gage Harper, Ryder Mulvany, Aubrey Pitts, Kayla Sexton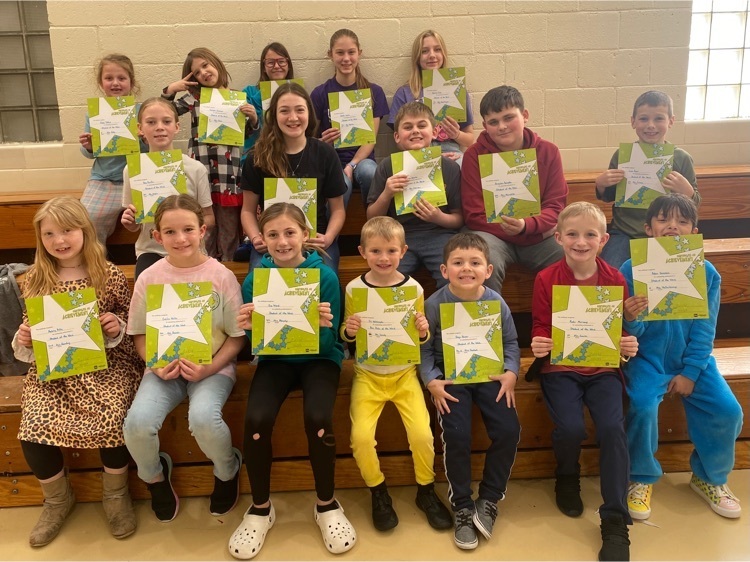 The Salem Chamber of Commerce surprised our own Educator of the Year nominee Mrs. Kalie Smith yesterday as she was working with her students. Mrs. Smith teaches our youngest students to be the best version of themselves. She is a dedicated teacher that strives to impact our students every day and help them grow as individuals. Mrs. Smith has been a Rocket for the duration of her career and has taught many Selmaville students. We are proud of her nomination.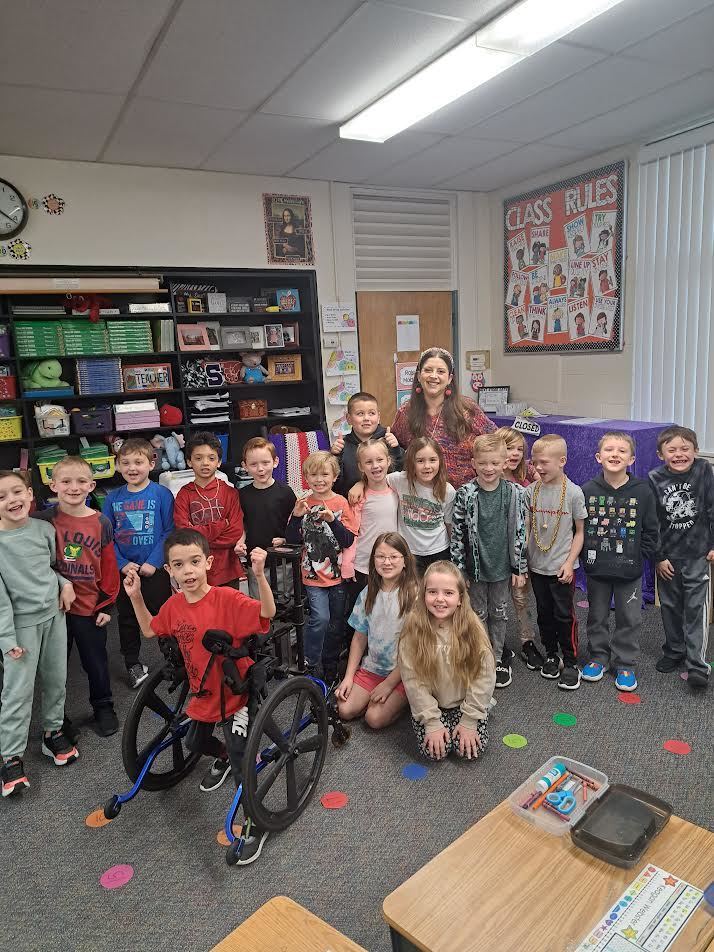 Selmaville is excited to announce our own retired teacher, Mrs. Elizabeth Shuler has been nominated for the Chamber of Commerce Educator of the Year as well as Volunteer of the Year. Mrs. Shuler has been a champion for students and the Salem community for many years. Our community and school are better because she pours in her time and effort to make everything she does better. We would like to say thank you for your dedication to Selmaville and Salem. Your efforts impact the lives of our students and the community.
Save the Date! The Jr Beta Club is hosting an American Red Cross Blood Drive on Tuesday, March 21 from 2:00-6:00 pm. Every student who has an adult donate in their name will receive a prize from the Red Cross. Email
acourtright@selmaville.com
if you have questions or would like to schedule an appointment to donate.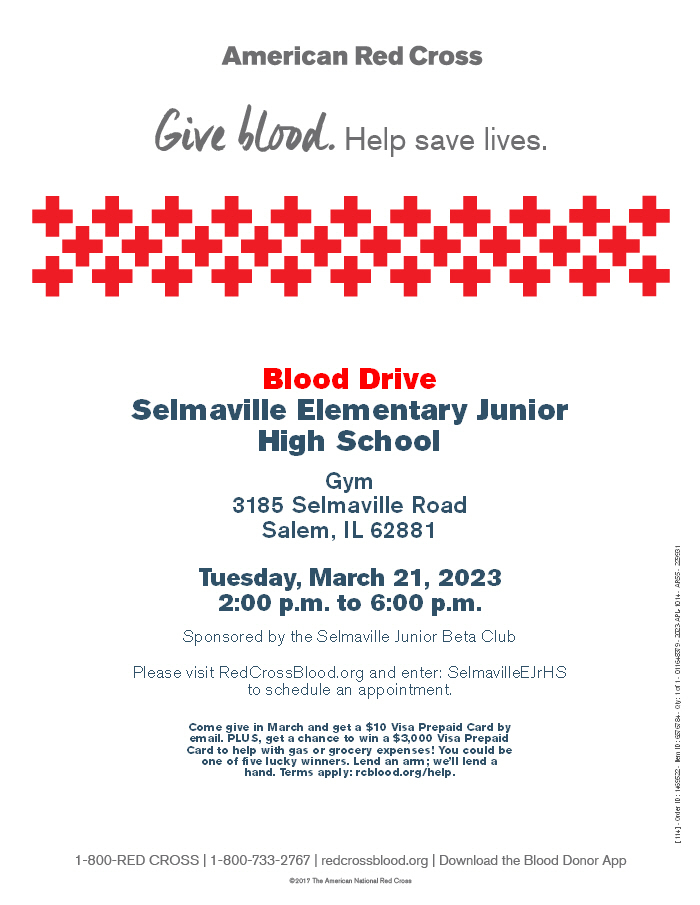 Congratulations to Ms.Chelsie Howe as she was nominated for the Salem Chamber of Commerce Educator of the Year. She has been dedicated to Selmaville students and our community for the past 7 years. She engages her students to do their best no matter what comes their way. Thank you Ms. Howe for the great work with our students at Selmaville and the outstanding effort to make our students the best they can be. Congratulations on the nomination!
Congratulations to our amazing teacher, Mrs. Angie Courtright. She has been nominated for the Salem Chamber of Commerce Volunteer of the Year award. The projects she has completed with her teams have impacted our community in so many ways. Thank you Mrs. Courtright for all the dedication to Salem and the Selmaville Community! You are an amazing example of how to work for the betterment of our community.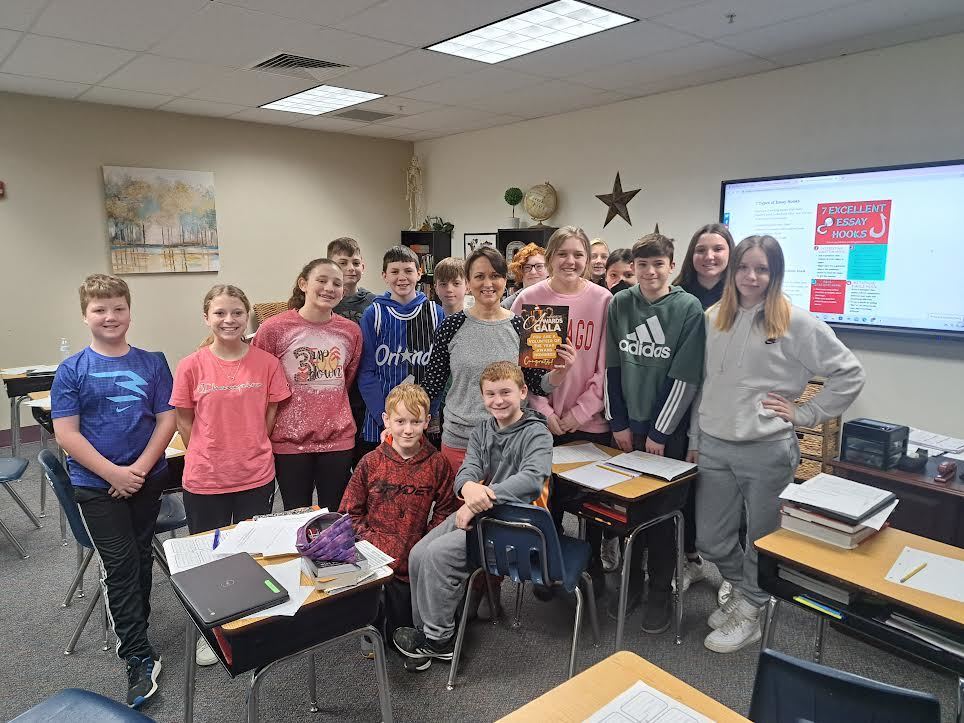 Art looked a bit different this week and last! 4th-8th graders explored what emotions are associated with what colors. They were to choose a color of construction paper that best described their current feelings, positive or negative. They then wrote a letter to themselves as to why they were feeling this way along with anything else that they needed to "talk" about. NO ONE but the student viewed these letters and then they put them through a shredder (most would love to purchase a shredder for themselves now...shedding machines are so fun). We have been making Art with the shreds to fill the halls!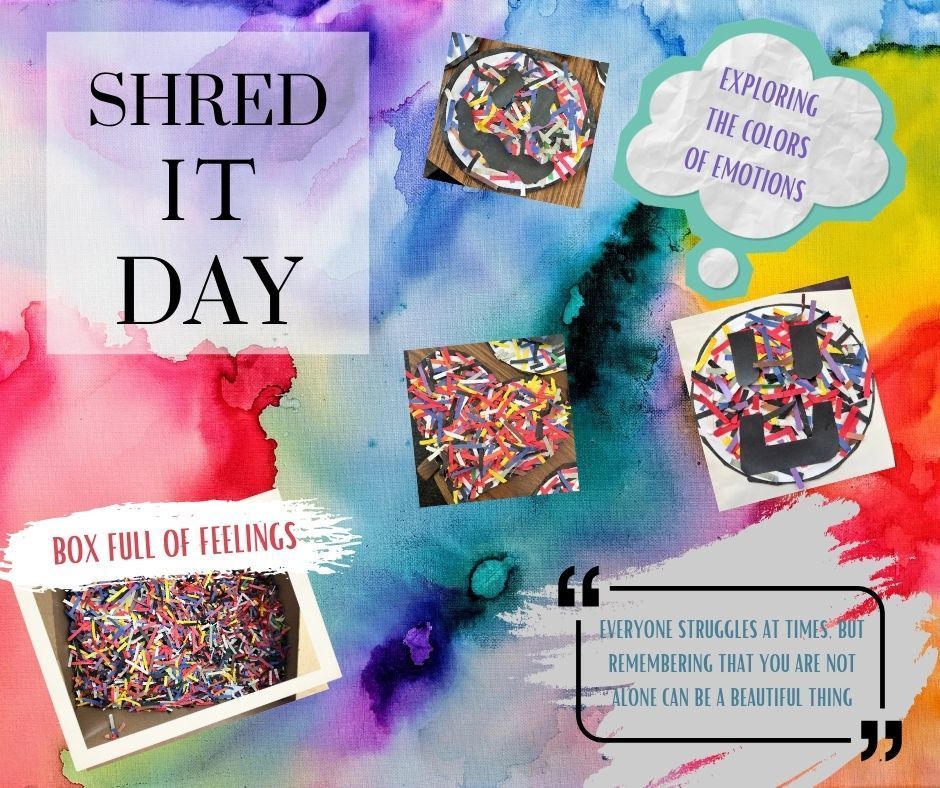 Caught Being Yellow!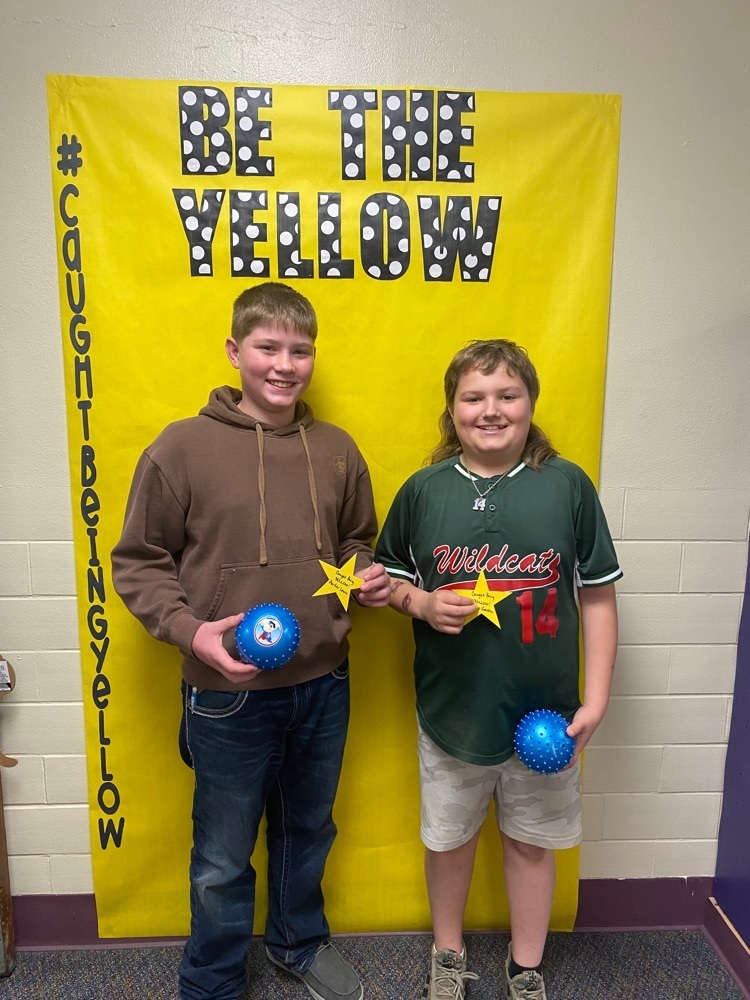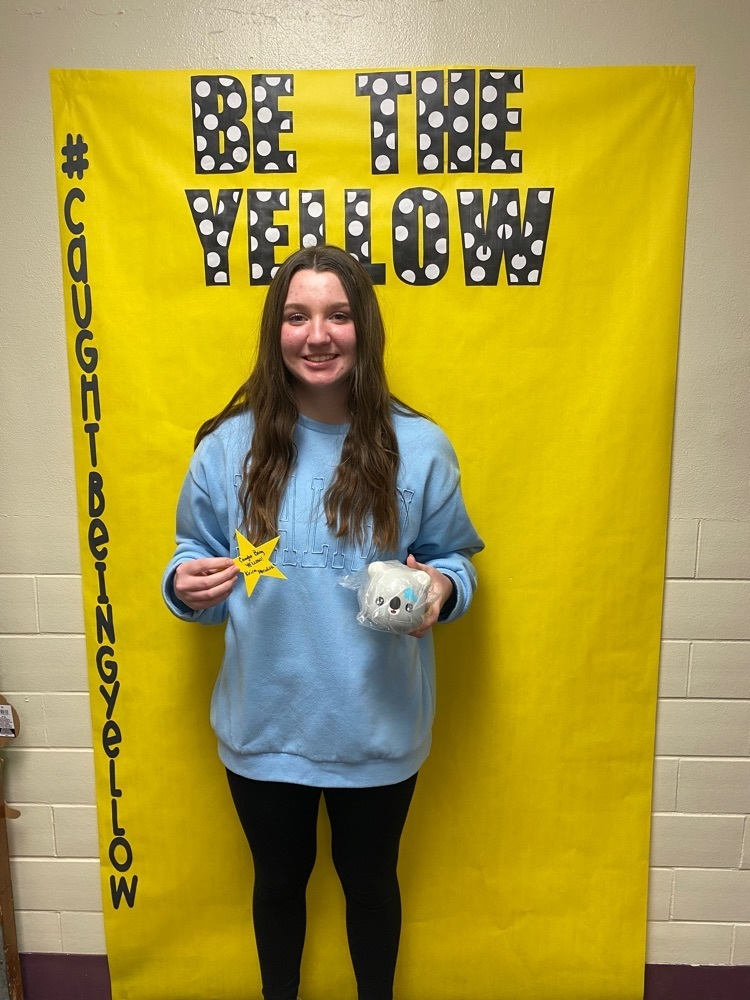 Student of the Week: Kynleigh Handegan, Allie Cavins, Jacob Butts, Gavin Harper, Max Smolak, Jack McCarthy, Gabe Purcell, Rylan Smith, Cohen Nix, Kaiden Garney, Ava Lund, Austyn Veach, Zeke Thompson, Ava Renfro

Caught Being Yellow!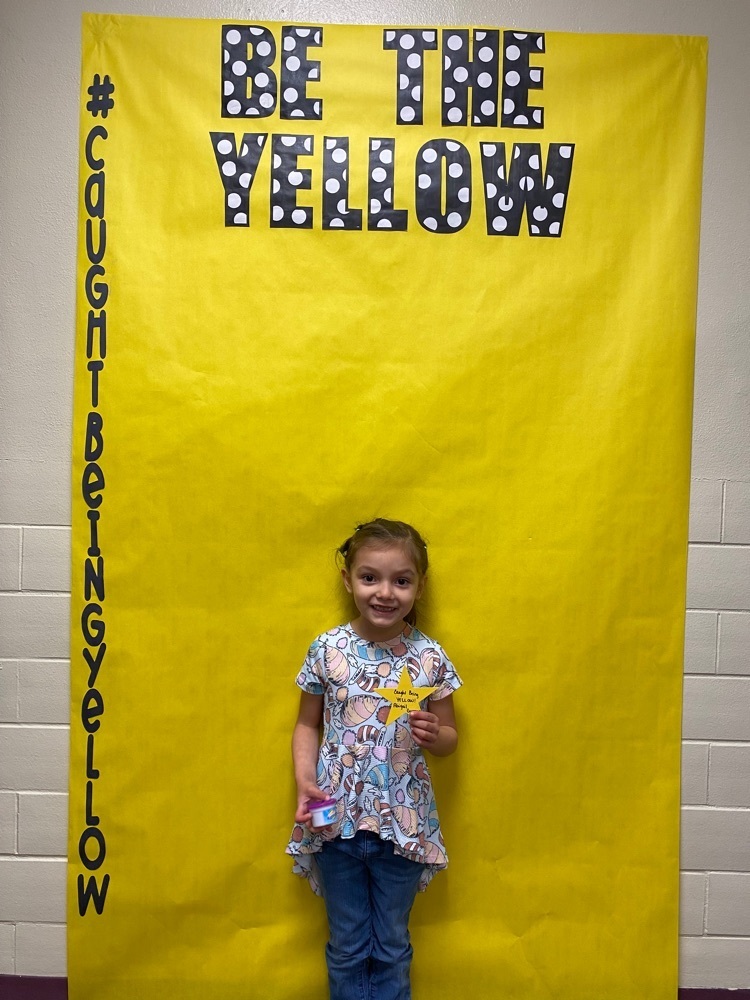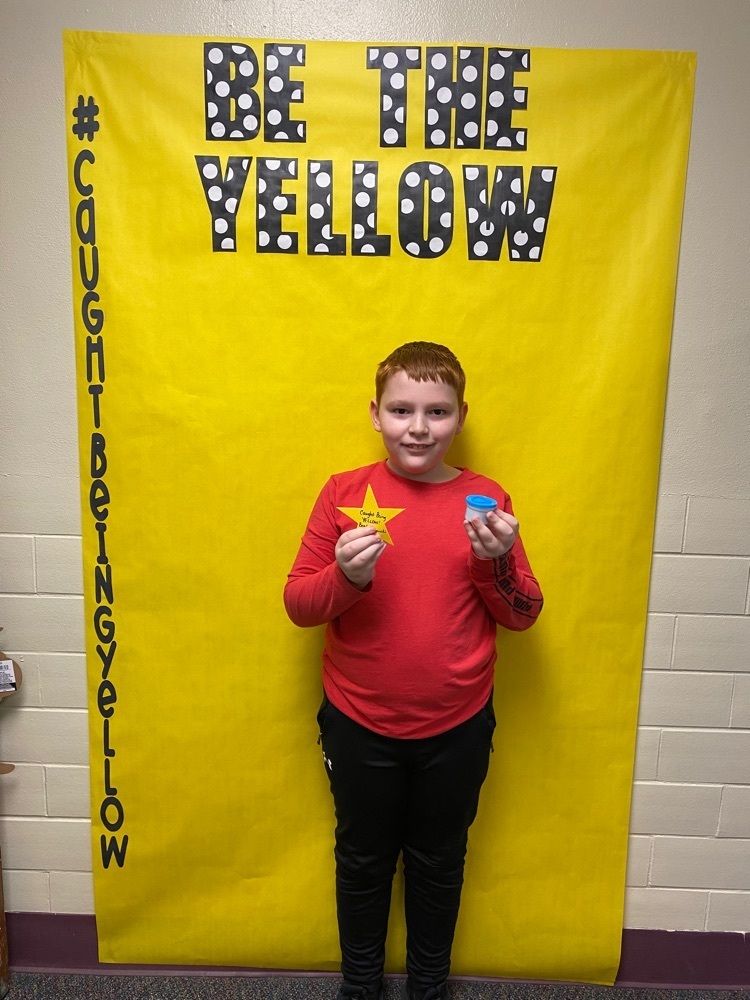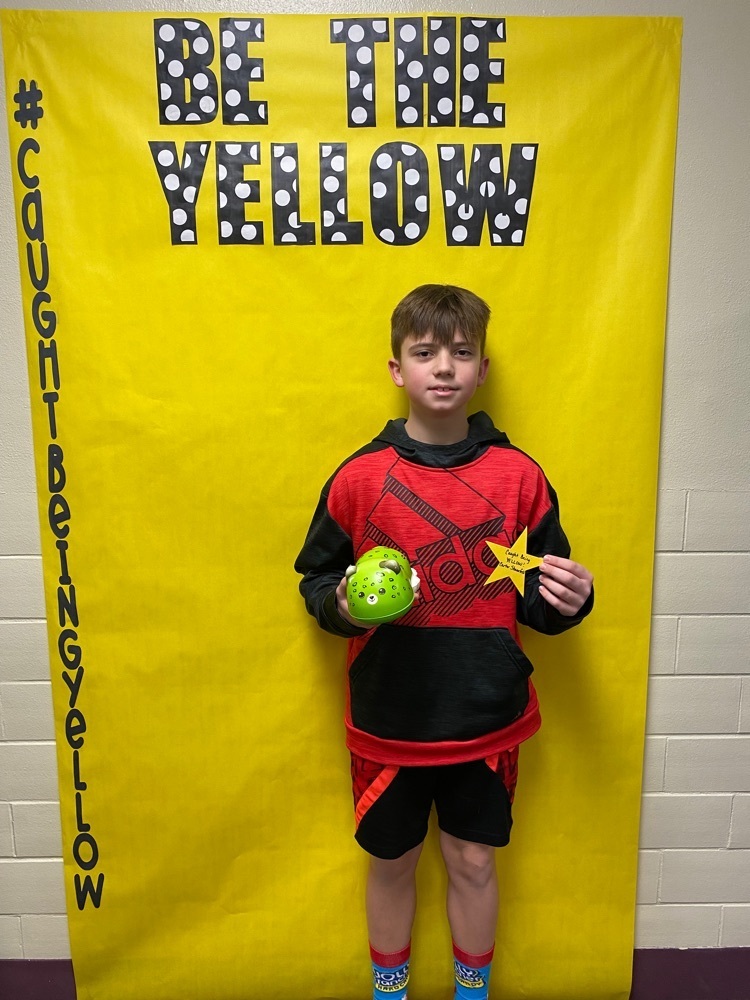 Caught Being Yellow!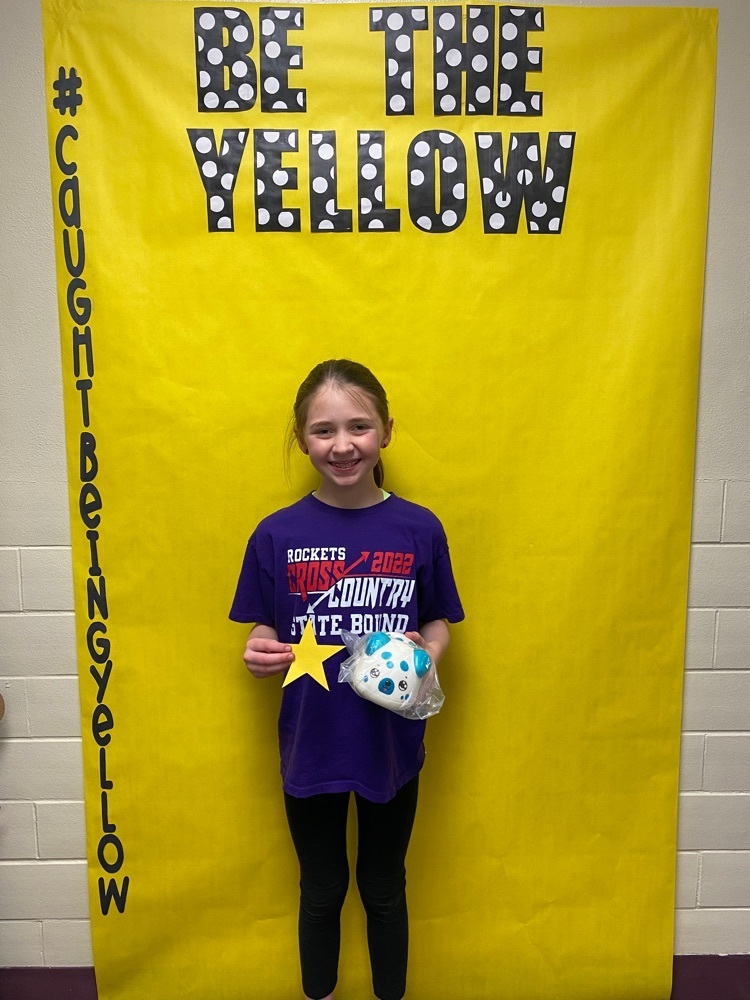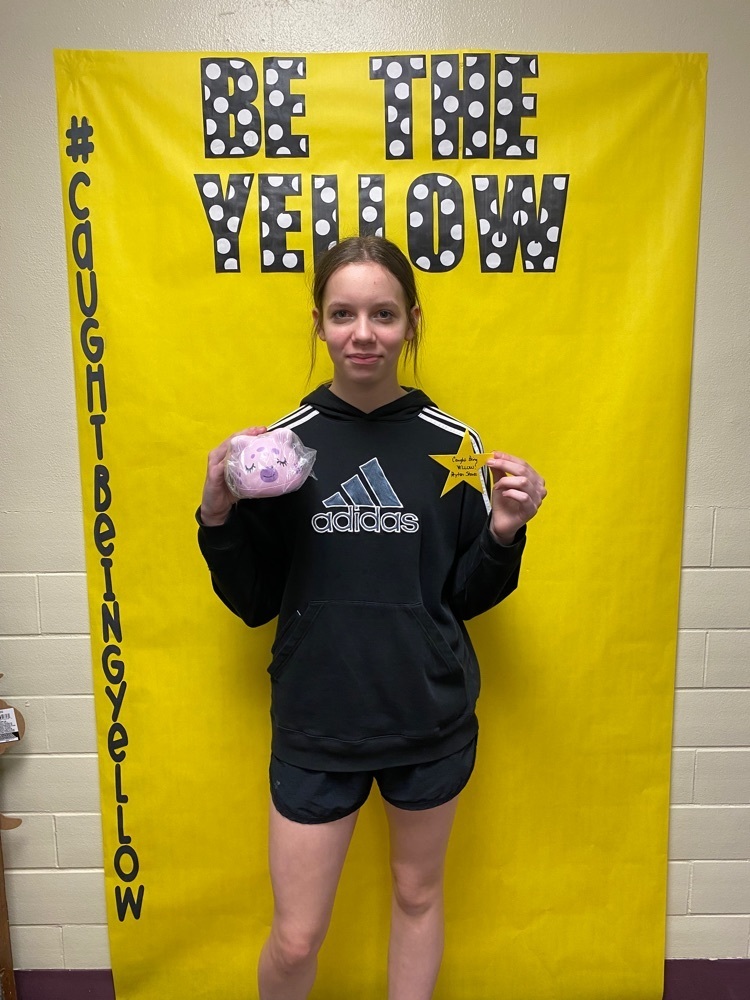 Caught Being Yellow!