Just finished an amazing and productive PTO meeting with our new officers: Kelsey Tate President, Chelsie Howe Vice-President, Paula Graham Secretary and Kelly Marhanka Treasurer. The PTO has planned some exciting events for our kids this year. The next meeting will be October 14th. Come be a part of making this unique year an exciting one for our students.

Today's events for Selmaville: 11:30 AM early dismissal 4:30 PM Girls Softball @ the Salem Complex (Regionals) 5:30 PM PTO meeting

The Selmaville PTO will be meeting this Wednesday, September 30th at 5:30 PM. The meeting will be held in the gym. Please enter through the Jr. High entrance. Also, please remember that upon entering the building you must wear a mask and observe social distancing.

Just a quick reminder that Selmaville School dismisses at 11:30 AM tomorrow.

As a reminder tomorrow, Friday, September 18th, there is no student attendance at Selmaville. This is due to an all day teacher's workshop.

Selmaville students will have their fall school pictures taken by TSS Photograph tomorrow. Pictures will also be taken of the softball, baseball and cross country team members. If you are a member of one of these teams, please bring your uniform.

Tomorrow, Wednesday, September 16th, we will dismiss at 11:30 am. Pack and go lunches will be provided to any student who requests one.

Just a quick reminder that remote learners may call the school to schedule their fall school pictures. Remote learners have the option of having their picture taken between 2 pm and 3 pm tomorrow, Wednesday, September 16th.

Here are steps to take if you are not receiving notifications.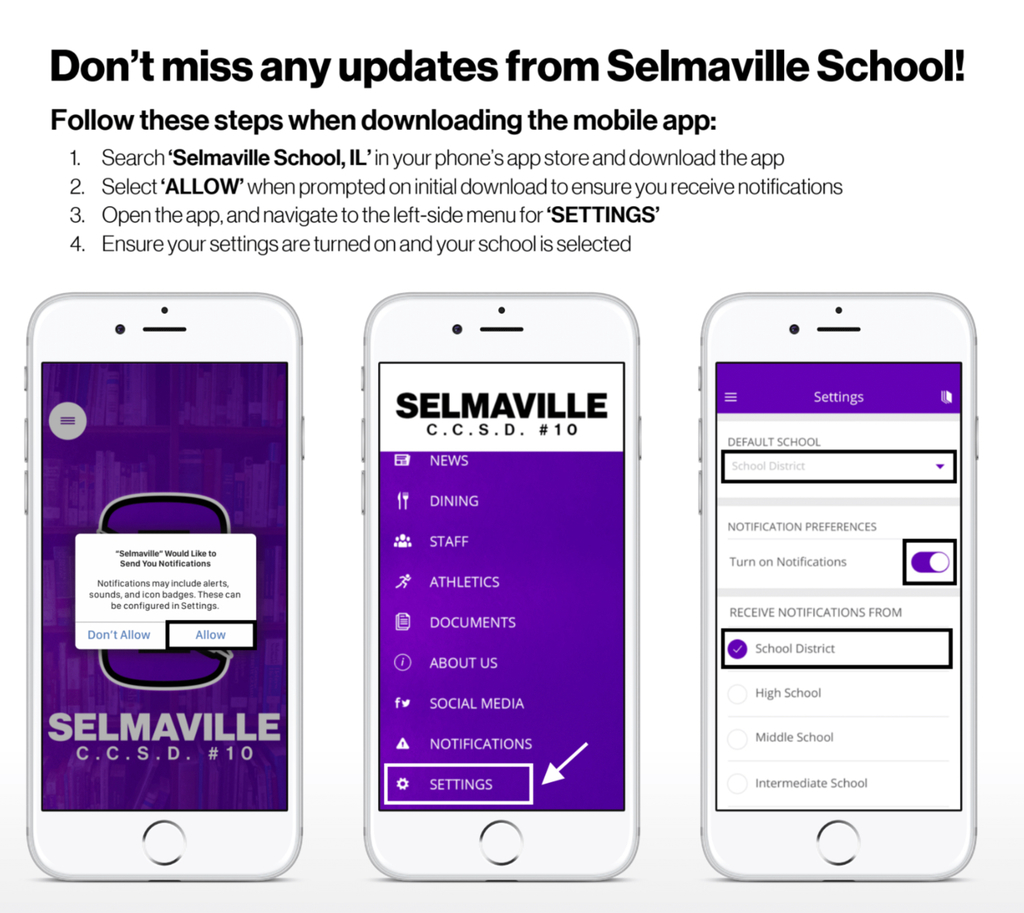 The following team pictures will be taken next Thursday, September 17th: Softball, Baseball & Cross Country Please bring your uniforms to school for these pictures.

This year's Fall School Pictures will be one week from today, Thursday, September 17th. This will be for all in person students. All remote learners may have their pictures taken on Wednesday, September 16th. These will be offered from 2 PM until 3 PM by appointment only.

Another great week at Selmaville! Enjoy your Labor Day weekend! Be safe and we will see you on Tuesday.


🚀 Welcome back, Rockets! 🚀